Loudoun, Va., November 14, 2019 — The physicians of Oncology/Hematology of Loudoun and Reston (OHLR) Dr. Rangappa Rajendra, Dr. John Khuu, Dr. Manoel A. Moraes and Dr. Jeffery D. White welcome Medical Oncologist Dr. Leandro Moraes to the practice. OHLR, an American Oncology Network (AON) partner, has office locations in Lansdowne, at 44055 Riverside Parkway, Suite 224 and in Reston, at 1860 Town Center Drive, Suite 120 and in Dulles, at 24430 Stone Springs Boulevard, Suite 515. Dr. Moraes is seeing patients at all practice locations.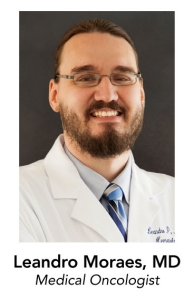 After receiving his medical degree from the University of Alabama School of Medicine, Dr. Moraes completed his internship and residency in internal medicine and a fellowship in hematology/oncology at the University of Arkansas for Medical Sciences. He is Board certified in medical oncology, hematology, and internal medicine.
"Dr. Moraes comes to us with outstanding credentials," said Oncology/Hematology of Loudoun and Reston Senior Physician Dr. Rangappa Rajendra. "Most importantly, he shares our dedication to providing quality cancer care."
AON CEO Brad Prechtl, MBA added, "As a community oncology practice, we remain committed to providing patients with the most advanced and personalized treatments in settings that are convenient and close to home.  I'm confident that Dr. Moraes' training and experience make him an ideal fit for AON and OHLR."
Dr. Stephen Orman, AON Board Chairman, stated, "We are delighted to welcome Dr. Moraes. He is an impressive addition to our growing physician network in Virginia."
# # #
About American Oncology Network, LLC: (AONcology.com)
American Oncology Network, LLC (AON) is an alliance of physicians and seasoned healthcare leaders partnering to ensure the long-term success of community oncology. Launched in 2018, the rapidly growing AON network represents 54 physicians and 15 nurse practitioners practicing across nine states. The executive management team of AON brings more than three decades of oncology practice management experience, enabling physicians to focus on what matters most – providing the highest quality care for patients.
The organization provides unique and comprehensive protocols for managing administrative procedures and enhancing ancillary services for its affiliates. AON is able to aggregate volume and attain economies of scale, as it guides its member physicians and practices through the transition to value-based reimbursement models that improve the patient experience and help to reduce the per-capita cost of cancer care.
AON also provides a unique model of physician led, community-based oncology management. With services such as a centralized specialty pharmacy, diagnostics, pathology, fully integrated electronic medical records, a care management team and a variety of financial assistance programs, an alliance with AON ensures that patients' experiences will be at the very pinnacle of cancer care today.
About Oncology/Hematology of Loudoun and Reston: (www.loudounoncology.com)
Oncology/Hematology of Loudoun and Reston, founded in 1997, specializes in the diagnosis and treatment of adults with cancer or hematological abnormalities. State-of-the-art treatment is administered by knowledgeable and professional staff in a warm, compassionate atmosphere. Patients, family members and caregivers are treated with dignity and respect towards the common goals of health and healing.
For More Information, Contact:
American Oncology Network, LLC
Caroline Hewitt
Director of Marketing
Caroline.Hewitt@AONcology.com
(239) 789.2341
https://www.aoncology.com/wp-content/themes/aon-enfold-child/images/logo.png
0
0
AON Website Manager
https://www.aoncology.com/wp-content/themes/aon-enfold-child/images/logo.png
AON Website Manager
2019-11-14 22:18:00
2022-01-10 08:47:11
American Oncology Network, LLC & Oncology/Hematology of Loudoun & Reston Welcome Leandro Moraes, MD