New Medical Oncologist Joins in Baton Rouge
Baton Rouge, LA – September 4th, 2018. . . The physicians of Hematology/Oncology Clinic (HOC), Dr. Michael Castine, Dr. Pavani Ellipeddi, Dr. Christopher McCanless and Dr. Gerald Miletello, are pleased to announce that medical oncologist Lauren Juneja, MD, has joined the leading community oncology/hematology practice in Baton Rouge, LA. A division of American Oncology Partners, PA, HOC has office locations in Baton Rouge, at 8595 Picardy Avenue, Suite 400, and a new office in Zachary, located at 1673 East Mount Pleasant Drive, Suite F-102. Effective September 1, 2018, Dr. Juneja will be practicing at both locations.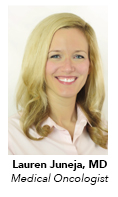 Hematology/Oncology Clinic Senior Physician Dr. Gerald Miletello, added, "Dr. Lauren Juneja comes to us with excellent outstanding credentials and a keen interest in clinical research. As a highly dedicated and respected medical oncologist, Dr. Juneja will be a great addition to our network in the Baton Rouge."
AON CEO, Bradley Prechtl, MBA, stated, "It is a pleasure to welcome Dr. Lauren Juneja to the Hematology/Oncology Clinic and American Oncology Network, LLC. As a community oncology practice, we have an ongoing commitment to our patients to provide the most advanced and personalized treatments in a setting that is convenient and close to home. I am confident that Dr. Juneja's experience and expertise will make her a perfect fit for the AON and HOC family."
Dr. William Harwin, AON Board Member said, "We are delighted to welcome Dr. Lauren Juneja to the American Oncology Network. She has established an excellent reputation and will offer added convenience for our patients in Baton Rouge. We are very pleased to have her join the AON family."
Dr. Lauren Juneja is Board certified in internal medicine and completed her medical oncology and hematology subspecialty fellowships in 2018. Dr. Juneja earned a Master of Science at Tulane University in Cellular & Molecular Biology and served as an Adjunct Professor at Delgado Community College in Anatomy/Physiology before applying to medical school. She earned her medical degree from the Louisiana State University School of Medicine (Shreveport, LA). After graduation she completed her Internal Medicine Residency at the Louisiana State University Health Sciences Center (Shreveport, LA) and was awarded a Fellowship in Hematology/Oncology at Feist-Weiller Cancer Center (Shreveport, LA). She presented a city-wide grand rounds lecture to physicians in her area on hematologic complications in pregnancy and has an interest in female care including breast, ovarian and endometrial/uterine malignancies.
###
About Hematology/Oncology Clinic: (www.hocbr.com)
As specialists in the diagnosis and treatment of blood disorders and cancer, Hematology/Oncology Clinic's goal is to provide compassionate and supportive care. Doctor-patient relationships are based on mutual understanding. Our highly trained and extensively experienced clinical staff consists of Nurse Practitioners, Oncology Certified Registered Nurses and Licensed Practical Nurses. Our philosophy of hope, optimism and caring is also reflected in our office, insurance and business staff. The physicians at Hematology/Oncology Clinic include Dr. Gerald Miletello, Dr. Christopher McCanless, Dr. Michael J. Castine, III, Dr. Pavani Ellipeddi and Dr. Lauren Juneja.
About American Oncology Network, LLC: (AONcology.com)
Founded in 2017, American Oncology Network, LLC (AON) is an alliance of physicians and seasoned healthcare leaders partnering to ensure the long-term success of community oncology. The executive management team of AON brings more than three decades of oncology practice management experience, enabling physicians to focus on what matters most . . . providing the highest quality care for patients.
The organization provides unique and comprehensive protocols for managing administrative procedures and enhancing ancillary services for its affiliates. AON is able to aggregate volume and attain economies of scale, as it guides its member physicians and practices through the transition to value-based reimbursement models that improve the patient experience and help to reduce the per-capita cost of cancer care.
AON also provides a unique model of physician led, community-based oncology management. With services such as a centralized specialty pharmacy, diagnostics, pathology, fully integrated electronic medical records, a Care Management Team and a variety of financial assistance programs, an alliance with AON ensure that patients' experiences will be at the very pinnacle of cancer care today.
For More Information, Contact:
American Oncology Network, LLC
Shelly Glenn, Chief Marketing & Sales Officer – Shelly.Glenn@AONcology.com
770.365.6168
ChappellRoberts
Chris Wilkerson – cwilkerson@chappellroberts.com
813.334.6690
Ganick Communications, Inc.
Elaine Ganick – elaine@ganick.com
615.377.7877
https://www.aoncology.com/wp-content/themes/aon-enfold-child/images/logo.png
0
0
AON Website Manager
https://www.aoncology.com/wp-content/themes/aon-enfold-child/images/logo.png
AON Website Manager
2018-09-04 21:21:00
2020-01-10 15:22:48
Hematology/Oncology Clinic Welcomes Dr. Lauren Juneja